Liquid error (templates/page.page-faq-affirm line 28): Error in tag 'section' - 'affirm-image-with-text' is not a valid section type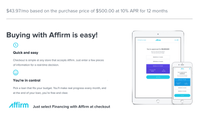 We have partnered with Affirm to give you a simple way to make your purchase with no hidden fees.
Pay at your own pace with Affirm
How does Affirm work?
 Provide some basic information and get a real-time credit decision to split your purchase into monthly payments. Rates from 10% to 30% APR with loans of 3, 6, or 12 month terms.
 4 interest-free payments Depending on the merchant and your order value, you can make 4 equal payments, every two weeks, so you pay your purchases off quickly with no impact on your credit.
Interest and no fees
We don't charge any fees. That means no late fees, no prepayment fees, no annual fees, and no fees to open or close your account. Your APR may be different depending on your creditworthiness and where you are shopping. The exact terms that apply to your purchase will be given when you check out with Affirm.